We are architects & designers who make built projects happen. We are a unique practice working in both early stage advisory, as well as full design & implementation stages.
Sustainability underpins everything we do. Working with PHPP (passivhaus planning package) we do iterative modelling to ensure the design evolves with maximum efficiency.
We focus on energy efficiency and specifying ecological materials and systems. This leads on to our particular passion of creating feel good environments which are kind to the planet and occupants, thereby increasing productivity, creativity and well being.  This results in activating organisations and occupants to thrive.
Cayford Design is a Chartered RIBA Practice, located in Central London with a branch office in Sydney, Australia.  We are flexible, work across many sectors. and are usually happy to work in partial stages.  Our work is characterised by its quality of design and finish, and the secret ingredient of the 'feel-good' factor.
As an accredited RIBA Client Adviser, Paul Cayford is an expert facilitator of construction projects, working with clients from the very beginning through all stages to help vision, brief and manifest excellence in the built environment.
Using our skill and track record we work closely with clients embarking on ambitious projects, helping them be an EXPERT CLIENT – a good client is one of the most important factors in a successful building project.  The Client Adviser role is a direct appointment with the client and is independent of the project team, ensuring the client has wise and impartial advice.
Client Adviser case studies
Consultancy Specialisms
click on heading to see the process of each stage.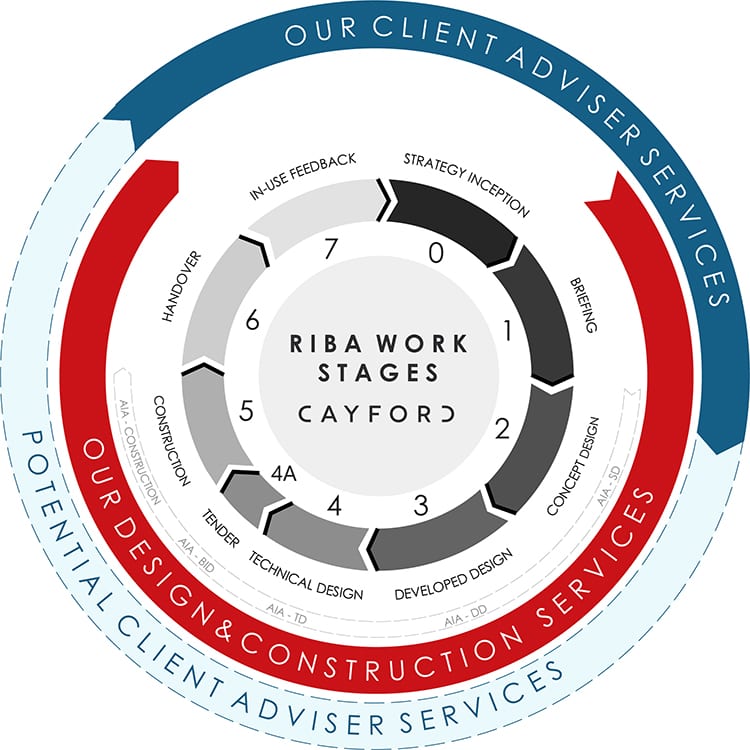 Cayford Design are architects experienced with both new-build and re-purposed buildings.  Retrofit involves renovating to a high thermal performance.  This brings risks of 'unforseen consequences';  the PAS 2035 is a rigorous methodology which minimises these risks.
Passivhaus is an understanding of building physics; working with PHPP allows you to achieve the performance you require minimising the 'performance gap'.
We incorporate our experience of designing workplace, digital media, education, science, hospitality and residential buildings to facilitate cross-sector innovation. Our mission is to create future-proofed inspiring and well designed buildings and environments.
We have a flexible and disciplined approach to the procurement process to meet budget, timescales and statutory approvals.
Design & construction case studies
RIBA Work Stages
refer to RIBA Plan of Work
– click on heading to see the process of each stage.
People
Our studio – virtual and physical –  is a collaborative workplace.  We are catalysts to great teamwork, and ensure the process of creating and delivering projects is done with the utmost professionalism, as a harmonious and joyful experience.
Our physical studio is shared with other award winning architects and construction professionals. This provides for a great workplace in the heart of Chelsea, a convenient place to work and meet. This also gives Cayford Design the capacity to take on projects of almost any size and complexity.
Many of the featured 'work- case study' photos are by Adelina Iliev.
Paul Cayford
RIBA Architect. Certified Passivhaus Consultant. RIBA Client Adviser.
Paul Cayford has a passion for creating buildings of quality and the feel-good factor, delivered with excellent communication skills and efficiency – on time and on budget. Paul is an experienced architect, creating award-winning buildings in a wide range of sectors. The dual role of RIBA Client Adviser and practicing architect allows a breadth of experience to be brought from one sector to another. As a co-founder of Channel Health, he has in-depth knowledge for Well-Being in the built environment.
Joanne Sawicki
Communications Consultation and Strategy
Joanne Sawicki is a media, health and business strategist, with a portfolio of projects in new-media and tech sectors. Joanne founded Channel Health, the world's first interactive digital health TV channel. Joanne was founder Trustee for 'Chiswick House and Gardens Trust' acting as client for the major £12m part Lottery Funded renovations project, and leading the public community consultation process. As the birthplace of the English Garden the restoration project and new café have proved exceptionally successful. These skills help Cayford's clients clarify and define business needs during the project briefing process.
Radost Yaneva
Architectural and Interior Designer
Radosveta Yaneva is a talented and professional Interior Designer. A highly organised and efficient individual, whose thorough and precise approach to projects has yielded excellent results. Particularly proficient in 3D visualisation, including 3d studio MAX& v-ray, Revit, AutoCAD, and with SketchUp & Adobe Products. Radost holds a Master's degree in Interior and Furniture Design from the University of Forestry, Bulgaria
Junko Suetake
Chartered RIBA Member. Certified Passivhaus Designer
Junko Suetake gained Passivhaus accreditation along with Paul Cayford in 2012 and has subsequently designed and delivered many fabulous Certified Passivhaus residential projects. Junko is an experienced award winning Japanese architect with expertise in carefully detailed design with sustainably resourced and locally made materials and low energy consumption. She collaborates with Cayford Design as a key team member ensuring the highest technical and design standards are achieved. Junko is also part of the 15-40 Architecture collaborative, a skills sharing organisation set up to promote Passivhaus and alternative energy efficient buildings.
Cayford Design was engaged to renovate a dilapidated social housing development for the Local Council [Newham] where I was responsible for the development and delivery .. Paul and his team are excellent to work with, are extremely technically knowledgeable, creative and committed to doing a great job, despite some difficult constraints of the project. Paul is a good design team leader and worked well with the wider design team and consultants. I was pleased with the professionalism and quality of customer service from the outset. Gaurav Sarin - Client Project Lead London Borough of Newham
Paul has been consistently brilliant throughout the process. Thank you for all your experience guidance and serenity. Maggy Aylott - Head Teacher Dormers Wells High School. Ealing BSF
The Broadcast Centre was the catalyst for the whole BBC Media Village development, and Paul performed an outstanding job working with BBC Broadcast from the very beginning in helping define their business idea into appropriate property requirements… He was inspirational in many ways, from the initial vision, through the design and construction process, to the final selection of artwork. Pam Masters Managing Director. BBC Broadcast Ltd.
Paul… demonstrated reliability, tenacity, personal qualities of empathy discretion etc, as well as talent as a designer and ability to nurture other design teams talents, initiative to instigate new systems and processes, commitment, ability to work in and with a team, ability to use various media to draw out clients ideas, experience in a wide variety of building types. George Crowe - Controller BBC Property 1993-2001 BBC
In May 2004, Allies and Morrison completed their £250m development for the BBC at White City. The success of the project, in large part, depended on the professionalism of the BBC and its team of which Paul was a key member. In that role, he was informed, energetic, reliable, and diplomatic, and we were grateful not only for his guidance on the many complex matters but also for his constant enthusiasm. Graham Morrison Allies & Morrison Architects
Paul's professionalism and knowledge was apparent throughout. Paul was able to create beautiful and user friendly designs, ensuring our requirements were in the forefront of the design process. In addition to creating great designs Paul also assisted in producing and submitting our planning permission application. Tia Marquis-Copeland - Client - Assets, Operations, and Planning Hammersmith & Fulham Council
Following your extremely helpful efforts on our behalf, the response from the Council and your follow-up comments and counter-proposals… we have an encouraging response on the planning side..... your thoughts show us a way through, which would work very well...we want to thank you very much for your work. It was also of course a great pleasure for me to work with you again. IR Tallow Chandlers Company
Cayford Design provided plans, took the process through planning and managed the project ..... The back of the house was remodelled to include a new extension to house open plan kitchen. The result was of the highest quality and finish. When we sold the house later on, the house sold in two days, and the new extension was a major factor in that. Camilla VM
Paul Cayford, … prescribed feng shui fixes for my apartment, I was reminded of a conversation we had about Paul coming to your offices, both to heal any remaining energy from the past, but also to streamline the flow in your existing setup…. I urge you to. Note: when we implemented his suggestions in the apartment, the aim being to get the place sold, exactly that happened, the NEXT DAY. Shelley von Strunckel - Astrologer
Thank you for all your diligence and hard work on this. I really appreciate your professional approach and feel that I have been in good hands. SL - Loftus Road - 2016
Perfection, as good as it gets...This is the best BSF school CABE has seen...This is a rare moment; whoever has done the briefing has done a good job. CABE Jury. Ealing BSF sample school, Dormers Wells Commission for Architecture and the Built Environment
Best of Houzz
Cayford Design
Residential projects
Ealling Civic Society Award
Dormers Wells High School
Role: Client Design Advisor for London Borough Ealling, Nicholas Hare Architects
RIBA National Award
Central St Martins, Granary Square - UAL
role: Formulating design brief, with AMA
RIBA National Award
Chiswick House Café
role: Client Design Adviser at briefing stage, on behalf of English Heritage and LB Hounslow, Caruso St John Architects
BSF Best Design for a Remodelled Building
Elmcourt Special School
role: CABE Enabler for London Borough Lambeth, JM Architects
RIBA National Award
BBC Scotland - Pacific Quay
role: Site selection, masterplan designer, project briefing, Chipperfield Architects
RIBA National Award
BBC Media Village
role: project briefing, site selection, masterplan designer & Design Manager through project. Allies + Morrison Architects, DEGW Interior Designers, Buro Happold Engineers
BCO Corporate Workplace Award
BBC Media Village
Masterplan Designer & Design Manager through project. Allies + Morrison Architects, DEGW Interior Designers
FX International Interior Design Award
BBC Media Village
Masterplan Designer & Design Manager through project. DEGW Interior Designers
Client of the Year
BBC
role: Client Adviser to the BBC. Client of the Year from Building magazine 2004; Special Client's Award, CABE 2004; Occupiers' Property Strategy of the Year Property Week Awards 2003; Client of the Year - RIBA Journal 2002
BCO Workplace Award
Glaxo Wellcome World HQ, Greenford
role: project briefing & designer at RMJM
RIBA National Award
Marks & Spencer Financial Services building, Chester
role: designer at Aukett