Front Garden – in the suburbs
Car parking – with sustainable urban drainage (SuDS)
Transformation of a surburban front garden to allow for car parking with planting, biodiversity and sustainable permeable drainage – SuDS
Key Outcomes
With so many front gardens being paved over for car parking spaces this shows an exemplar design how to combine parking with a lovely front garden, contributing to the streetscape, adding biodiversity and allowing natural drainage back into the ground.
Our Approach
The client led with the brief, she loved the idea of having a front garden but required an off-street space for the car.
Our Process
We produced design drawings with example precedents for approval, then we drew that up and submitted for local council planning approval for the vehicle crossover.
The Results
The garden is much admired and appreciated in the neighbourhood, giving a comfortable and safe space to socialise.
Customer

Private Client

Field

Residential

Location

suburbs

Year

2018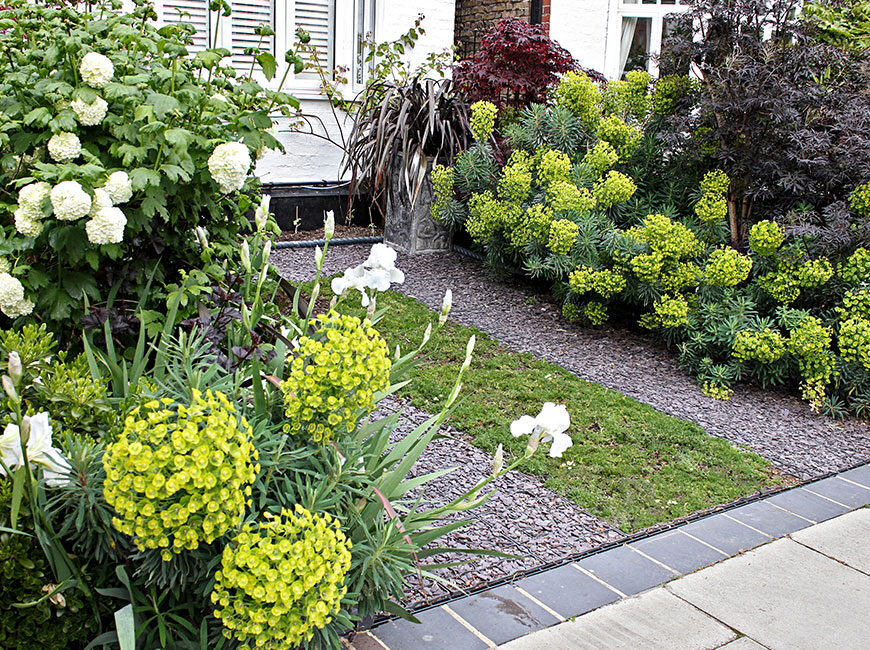 Paul was instrumental in assisting me to obtain planning permission from Ealing Council regarding my driveway. I had given him the brief that whilst off street parking was essential, I also wanted to maximise the amount of planting available on site. To this end I have three large areas of planting which look wonderful and have been much admired. In addition there is a large area under the vehicle which has been planted with camomile. I believe that London is losing too much land to essential off-street parking. With this type of design the homeowner can be assured of the best of both worlds. I am extremely pleased with the design of my front garden, which also included the heights of the walls and pillars on site to comply with planning regulations, whilst maximising natural drainage of water on site. Catherine O'B 2021